Roof Repairs in Naples
Licensed Experts Fixing Roofs in Fort Myers & Cape Coral
Your roof endures a lot, combating the elements 24/7. From the scorching sun to heavy rain, and from brutal winds to the occasional hail, it stands as your home's first line of defense. Over time, these factors can take a toll on your roof, resulting in damage that needs expert attention.
At Due East Construction & Roofing, we understand these challenges and stand ready to help. With over 20 years of experience under our belts, our qualified professionals are adept at diagnosing problems and suggesting the most effective solutions. Whether it's a small leak or significant storm damage, we have the expertise to handle it all. We treat every roof as if it were our own, ensuring that every repair job done is of the highest quality. Trust us with your roofing repairs and experience the peace of mind of knowing your roof is in capable hands.
Don't let roof damage go untreated; contact us for a free estimate. Call at (239) 932-4226 or contact us online right away.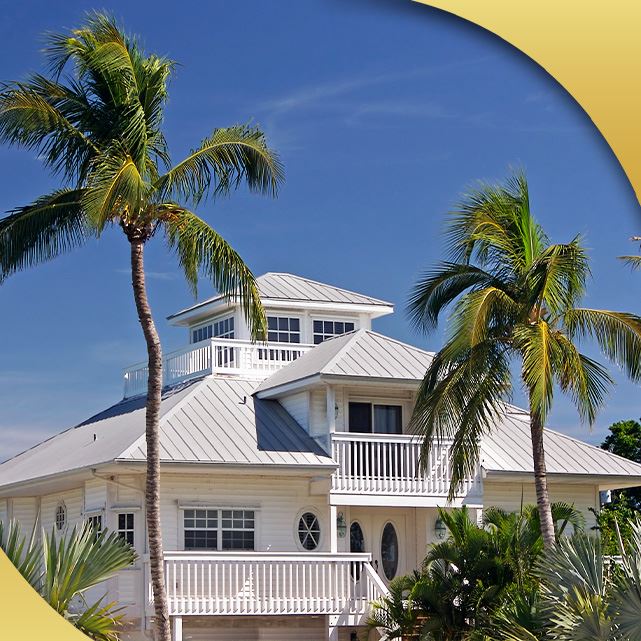 Hear From Our Happy Customers
Reviews & Testimonials
At Due East Construction & Roofing, your satisfaction is our priority! See for yourself what our customers have to say about working with us.
"Totally Recommend"

Very professional staff. We are very happy with the new roof.

- Shirly S.

"Can't Be Happier"

Awesome team of workers.

- Tom P.

"Amazing Company"

I am so happy with the finished product!

- Nathaniel B.

"Very Efficient"

We are very pleased with our new roof.

- Debbie P.

"Great Organizing Skills"

Due East Construction is a great company that has excellent work ethics, working efficiently with Insurance Companies.

- Elena S.

"The Quality of the Roof is the Best"

I recommend them 100%.

- Sandra D.

"Amazing Job"

Very professional, honest, and very hard-working.

- Lauren K.

"Fantastic Company!"

They gave me a great price on my roof.

- Emily A.

Contact Us Today
Send us a message or give us a call to see how we can help.
Signs of a Roof in Trouble
While some roofing problems are immediately evident, others may go undetected for some time. It's important to be aware of the signs and take action as soon as possible. Here are some warning signs that your roof may need repairs:
Missing, loose, or cracked shingles
Water stains on ceilings or walls
Leaks in the attic after a rainstorm
Sagging gutters or downspouts
Discoloration on walls or ceilings
Moisture in your attic or crawlspace
Don't hesitate to reach out if you spot any of these signs. Our team is here to help and can comprehensively assess the issue.
We Detect & Repair Roof Leaks
Roof leaks are among the most prevalent issues that can jeopardize the integrity of your roof. Identifying the source of these leaks can often be a complicated task for non-experts. After all, it's unlikely that you're frequently climbing atop your roof to investigate. The quicker a roof leak is discovered, the sooner it can be rectified, thus preventing further damage. At Due East Construction & Roofing, our skilled team employs cutting-edge technology to detect roof leaks accurately.
Our methodical process involves the following steps:
Initial inspection to identify potential problem areas
Utilizing advanced technology to locate the exact source of the leak
Detailed assessment of the leak's impact on the roof's structure
Formulating a comprehensive repair plan tailored to address the specific issue
Swift and efficient execution of the repair work to minimize any further damage
Need Help With Your Insurance Claim?
Experience peace of mind with our roofing company by your side. When the unexpected strikes and your roof is damaged by a storm, we don't just fix your roof - we also guide you through the intricate insurance claims process. Our team of experts is dedicated to ensuring you receive every dollar you're entitled to for your roof's repair or replacement. Trust us to handle both your roof and the paperwork, so you can get back to enjoying the safety and comfort of your home.
Remember, as soon as you suspect a leak, don't hesitate to call your trusted Naples roof repair team at (239) 932-4226or contact us onlineto request your free estimate today.