Naples Commercial Roofing Services
Roofing Contractor Serving Businesses of All Sizes in Fort Myers & Cape Coral
A roof for a commercial property serves as more than just protection from the elements. It is a significant investment that directly influences business operations and asset well-being. Due East Construction & Roofing underscores the importance of a well-installed and properly maintained roof in preventing structural damage, curbing energy loss, and avoiding potential disruptions to daily activities. We're committed to providing clients with valuable insights and practical solutions for addressing common roofing issues and ensuring the long-term resilience of commercial properties.
Ready to discuss your Naples commercial roofing needs? Schedule a consultation with our team at (239) 932-4226 to explore the best solutions for your property.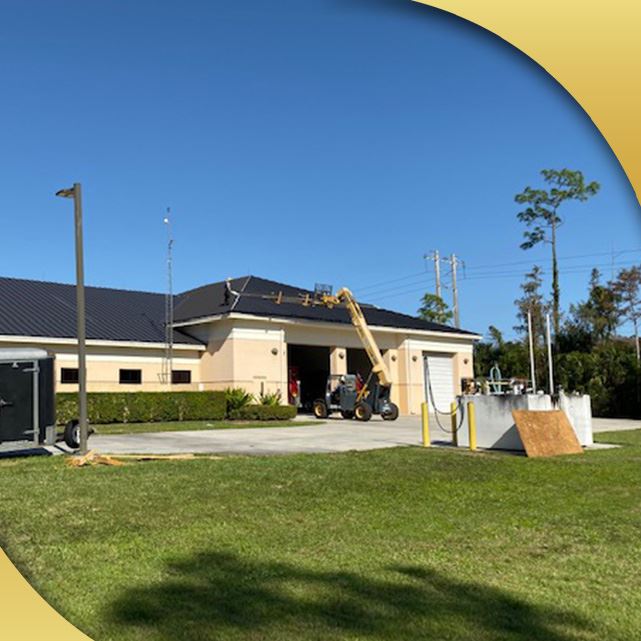 Hear From Our Happy Customers
Reviews & Testimonials
At Due East Construction & Roofing, your satisfaction is our priority! See for yourself what our customers have to say about working with us.
"Fantastic Company!"

They gave me a great price on my roof.

- Emily A.

"Can't Be Happier"

Awesome team of workers.

- Tom P.

"Great Organizing Skills"

Due East Construction is a great company that has excellent work ethics, working efficiently with Insurance Companies.

- Elena S.

"Top-Quality Workmanship"

Charles and his crew are great people to have on your side for roofing and construction needs.

- Kathy R.

"Amazing Company"

I am so happy with the finished product!

- Nathaniel B.

"Totally Recommend"

Very professional staff. We are very happy with the new roof.

- Shirly S.

"The Quality of the Roof is the Best"

I recommend them 100%.

- Sandra D.

"Amazing Job"

Very professional, honest, and very hard-working.

- Lauren K.

Contact Us Today
Send us a message or give us a call to see how we can help.
Types of Commercial Roofing Materials
The world of commercial roofing materials presents a range of practical options, each with distinct benefits and considerations. Our roofing professionals help clients understand the latest industry trends to make informed decisions for their properties.
Among the common choices for commercial roofing materials include:
TPO (Thermoplastic Olefin): A single-ply membrane known for its energy efficiency and durability. TPO provides solid resistance against UV rays, chemicals, and punctures, making it a reliable option for various commercial structures.
EPDM (Ethylene Propylene Diene Monomer): EPDM roofs offer excellent weather resistance and flexibility. They are often favored for low-slope roofing due to their proven longevity.
Metal roofing: Metal roofing systems are celebrated for their strength and long-lasting performance. Available in materials such as steel, aluminum, and copper, they offer both a sleek appearance and effective protection.
Modified bitumen: This multi-layered roofing material is highly durable and can withstand harsh weather conditions. It's commonly used on flat or low-slope roofs.
The Crucial Role of Regular Maintenance in Commercial Roofing
Maintaining a commercial roof with diligence and foresight is a cornerstone for preserving investments and extending property longevity. Beyond routine checklists, consistent upkeep serves as a protective barrier against potential issues that may evolve into costly repair endeavors.
By prioritizing regular roofing maintenance, business owners can:
Detect problems early: Routine maintenance identifies subtle signs of wear and tear that may not be immediately visible. Timely detection allows for proactive measures to be taken before problems escalate.
Extend roof lifespan: Like any other asset, a commercial roof has a finite lifespan. Routine maintenance, such as clearing debris, fixing minor damages, and ensuring proper drainage, can significantly extend the life of a roofing system and maximize the return on investment.
Protect property and assets: A well-maintained roof protects against external elements like rain, snow, wind, and debris. Preventing leaks and water infiltration preserves the integrity of a building's structure and safeguards valuable equipment, inventory, and interior furnishings from potential damage.
Interested in getting a cost estimate for commercial roofing services in Naples? Call (239) 932-4226 or contact us online to request a free quote from Due East Construction & Roofing.