The decision to choose a roofing contractor is not an easy one, especially with there being so many options currently available in the roofing industry. Many factors need consideration, and it isn't easy for most people to know who they can trust. That's why this blog post will help guide you through the process of choosing the right contractor so you can feel confident in your decision.
What should I look for in a roofing contractor?
When searching for a roofing professional, the following questions will come in handy during the vetting process:
How long have you been in business?
Any time you hire a contractor to work on your home, you want to be sure that you're working with a reputable and experienced individual. This is especially true when it comes to roofing contractors, as a poor roofing job can lead to serious and expensive problems down the line. When looking for a roofing contractor, be sure to ask how long they have been in business. A contractor who has been in business for a number of years is more likely to have the experience and expertise necessary to do a good job.
Are you licensed, insured, and certified?
When you are looking for a roofing contractor, it is important to ask if they are licensed and insured. This will give you peace of mind knowing that they are legitimate and qualified to do the job, as well as that you will be protected in case of any accidents. A reputable roofing contractor will be happy to provide you with this information.
Can I see your past projects?
Pictures of a contractor's past work can give you an idea of their skill level. Ask to see pictures of roofs that are similar in style and size to the one you're looking to have installed. This will help you get a sense if they have experience working on projects like yours. If most of their work is commercial, they may not be the best fit for your roofing needs.
Do you have any references?
A good contractor should be able to provide you with a list of past clients who are happy with their work. Make sure to follow up with these references and ask about their experience with the contractor. Did the job start and finish on time? Was the quality of work up to par? Did they encounter any problems during the project? By talking to references, you can get a better sense of what it's like to work with a particular contractor and decide if they're the right fit for your needs. Another good way of researching a company's customer satisfaction is through online reviews. Looking up the company on a search engine such as Google is always a great place to start, as previous clients have most likely left a rating and a review based on their experience with the company.
What is your rate?
When looking for a roofing contractor, it is important to review their pricing. Make sure to get a detailed estimate that includes the cost of materials, labor, and any other associated fees. Once you have a few estimates, you can then compare the prices and choose the best option for your needs. Keep in mind that the cheapest option is not always the best, so be sure to also consider the quality of work and customer service when making your decision.
What type of materials are you using?
The quality of the materials your roofing contractor uses on your project will have a direct impact on the finished product. A good contractor will only use high-quality materials that meet or exceed industry standards. This is important since it's often the case that lower-quality supplies have shorter lifespans which can cost you more in repairs down the line.
How long will it take?
It's important that your contractor is able to provide an estimated time frame for when the project should be completed by so that there are no surprises later on. With this information, you should be able to plan around the construction site and avoid any potential disruptions. The same is true when it comes to preparing your budget. You'll be able to do this based on the time frame that the contractor provides you with.
What are your terms?
Be sure to ask about the contractor's payment terms before signing anything. This will help you avoid any surprises down the line. Generally, a contractor will require a deposit upfront, with the final payment being made once the work is completed. However, this can vary.
Can you guarantee your work?
Different contractors have different policies when it comes to guaranteeing their work. Ask what kind of warranty they offer and how long the coverage lasts before committing to anything.
What are the qualities of a good roofing contractor?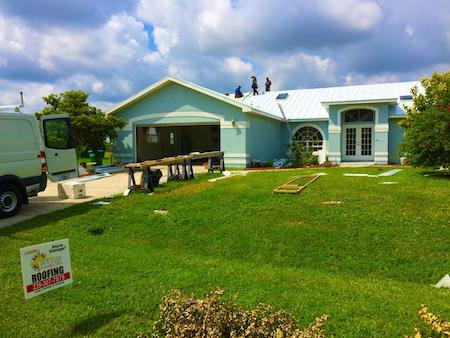 Make sure the contractor you choose has the following qualities:
Professionalism
Experience
Flexibility and responsiveness to client needs
Quality materials
Affordability
How much does roof installation cost?
The cost of a new roof installation will depend on a variety of different factors, including the cost of materials, as well as permits, labor costs, and the roofing company you choose for your roofing project.
Your Local Roofing Company
Due East Construction & Roofing is your trusted neighborhood residential and commercial roofing company in Naples, FL. We take pride in our work and are happy to come by your home or business and provide you with a free estimate! We have a team of committed contractors to oversee a smooth and rewarding roofing process. Just give us a call anytime you're ready and leave the rest to us! 
common roof repair
roof replacement
flat roofing
new roof installation
tile roofing
asphalt roofing
metal roofing and more!